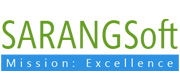 Call us:
USA: 425-378-3890
|
India: 33-2357-6094/6095
About Us
Company Information
Management Personnel
President & COO:
Rini Chakrabarti.
CEO & CTO: Alok Chakrabarti.
General Manager: Amitava Ray.
Director - Marketing & Business Development: Amit Chatterjee.
Corporate Information
SARANGSoft was started in March 2000. SARANGSoft India Pvt. Ltd. (SIPL), our India Development Center, began operations in November 2000.

SARANGSoft India is an ISO 9001 : 2015 organization, audited by TUV-Nord.

Rini Chakrabarti, President and COO of SARANGSoft, is one of the founders of SARANGSoft.
Rini has more than 20 years of experience in research and education. She is responsible for all operational aspects of the company, including Finance & Accounts, Legal, and Human Resources.
Rini has received M.Sc. in Applied Mathematics from Calcutta University, India. She was the recipient of the TIFR/NBHM scholarship to work on her Ph.D. in the area of Mathematical Optimization, and has published her work in International journals. She is also an Adjunct Faculty Member of Math at Bellevue College.

Alok Chakrabarti, Chairman, CEO and Chief Technology Officer of SARANGSoft.
Alok has been in the software industry for more than 30 years. He started his career at CMC Ltd (R&D Center), Hyderabad, India, where he spent more than 4 years. After spending a year in a Silicon Valley start-up, he joined Microsoft and for nearly 11 years developed and managed Windows Multimedia components related to digital video for various Windows versions – from Windows 3.1 to Windows XP MCE and Windows Server 2003. In the process, he has authored half a dozen patented technologies for Microsoft.
Alok received M.Sc. in Applied Mathematics from Calcutta University, India, and M.Tech degree in Computer Science from Indian Institute of Technology, Kharagpur.

Amitava Ray, General Manager of SARANGSoft India.
Amitava spent more than 15 years in education and training at various organizations. He has been a founding member of SARANGSoft India and has brought it up to its current level.
Amitava has a M.Sc. as well as a M.Phil degree in Applied Mathematics from Calcutta University, India. He has also received PGDCA and a number of professional trainings in the area of Information Technology over the years.

Amit Chatterjee, Director - Marketing & Business Development, SARANGSoft India.
Prior to SARANGSoft India Amit spent more than 23 years in sales and marketing for reputed MNCs. He gratuated in Bio -Science from Calcutta University, India. Due to his highly effective marketing approaches, leadership and vision, Amit has been recognized and rewarded as All-India Top Performer at Sanofi for years.
Scroll
Scroll