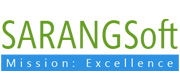 Call us:
USA: 425-378-3890
|
India: 33-2357-6094/6095
SARANGSoft Partner Program
Sign in
Already Signed Up? Sign In.
Partners and Registered Users
SARANGSoft values connection with customers and partners in all possible ways.

We welcome our valued customers to sign-up as a "Registered User" (at no cost) and enjoy additional benefits.

IT product and service providers are our perfect "Partners" to create new business opportunities and improved customer experiences.
We invite our customers to register with us. As a Registered User you can share your suggestions, comments, requirements to help us continue to improve our products and solutions in ways that meet your needs as well as receive some rewards.

As a Registered User you can –
Send your suggestions and requirements for product enhancements
Get standard (plus any promotional) discount for each product purchase
Get notifications for product updates and news
Refer friends (discount for them and reward for you) for suitable products
and more
If you have already purchased any of our products, we encourage you to Sign Up as a Registered User (follow the instructions to complete the registration process).
We invite fellow businesses in the IT product and service field to collaborate with us in creating high-quality, affordable, easy-to-use, and easy-to-manage technology solutions for customers. If you are providing IT solutions to your customers, our products and services can be a valuable component of your offering.

As a partner, you can –
Learn early about our product features and release plans
Provide feedback and requirements to steer our product planning
Receive solution plan / design help and guidance from us
Tap our technical know-how in relevant areas to augment your expertise
Enjoy significant incentives from sales and marketing of our products
and more
SARANGSoft has been providing high-quality software products and custom software services to customers for nearly 20 years. The dual capability enables us to create solutions by integrating our own products with suitable third-party technologies (hardware, software, services) and targeted enhancements that perfectly fit a customer's specific needs. This enables IT service / solution providers with a valuable resource to quickly and cost-effectively deliver a tailored solution to their customers.
If you are interested in becoming a Partner of SARANGSoft, please Contact Us with some basic information about your business and the interest.
Scroll