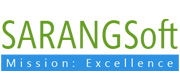 Company Highlights
Company Information
SARANGSoft (USA)
Started in March 2000
Deep Knowledge of Windows OS
Web and App Development
Cloud and mobile technologies
Technology consultancy expertise
SARANGSoft India Pvt. Ltd.
Started in August 2000
Member of STPI
ISO 9001 : 2015 (by TUV-NORD)
Product research & development
Outsourced product development
Overview
SARANGSoft is a software development and consultancy services company headquartered in Bellevue, WA, USA. We work as an extended team for our clients by providing software feasibility and market study, architecture, design, development, testing, deployment, maintenance, and technical support services for suitable software projects.
Our
offshore development center
,
SARANGSoft India Pvt Ltd
, is based in Kolkata (formerly known as Calcutta),
India
. This Development Center has a highly talented group of IT professionals with diverse knowledge and skill sets. SARANGSoft India is an
ISO 9001: 2015
certified Software Development Centre, audited by the prestigious
TUV-NORD Group
. It's also a member of the Software Technology Parks of India (STPI).
We provide
software services
to clients through a suitable combination of
onsite, offsite, offshore
models to deliver the most effective solution. Our service clients include
Microsoft Corporation
,
Regence BlueShield
(Medical Insurance),
Intel
,
Digeo - now a part of ARRIS
(communication & entertainment),
Fortinet
(Internet security),
iStreamPlanet - now a part of Warner Media
(media),
Srei
(non-banking finance), and a number of small and medium-size businesses in Asia, Africa, Europe, and North America.
We are expanding our product and service offerings to bring more choices to the customer. The expertise in software technology services has been utilized to create a set of
innovative products
and services for the
Windows
desktop and server,
web
,
cloud
, and
mobile
. These products and services can be used directly, or customized according to specific client needs within a short time.
Our primary goal is to enable our clients to utilize state-of-the-art technologies to improve their business operations.
We focus on making technology-based solutions effective and accessible to our clients, helping them focus on their core competency while we take care of their computing needs.
With an optimum mix of skill and experience in IT, engineering, management, consultancy and training to deliver effective business solutions, we are the perfect IT partner for small and medium size companies from different business domains, as well as the right provider of products and services to specific areas of operation for large enterprises.
Scroll
Scroll