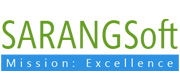 Company Highlights
Company Information
SARANGSoft (USA)
Started in March 2000
Deep Knowledge of Windows OS
Web and App Development
Cloud and mobile technologies
Technology consultancy expertise
SARANGSoft India Pvt. Ltd.
Started in August 2000
Member of STPI
ISO 9001 : 2015 (by TUV-NORD)
Product research & development
Outsourced product development
Company
SARANGSoft has been a trusted name in software services for the Microsoft Windows platform as well as web design and application development. The same excellence is behind the software products for desktop, server, and web platforms targeted for end-users, SMBs, and software developers.

From the very beginning, our motto has been Mission: Excellence. We are well aware that it's a tough challenge to live up to, but that's what we like about it – the relentless drive for improvement.
SARANGSoft is a software development and consultancy services company headquartered in Bellevue, WA, USA. We work as an extended team for our clients by providing software feasibility, architecture, design, development, testing, deployment, maintenance, and technical support services for suitable software projects.
SARANGSoft was founded with the primary goal of providing IT solutions and services to organizations of all sizes, using the latest in hardware, software and communication technologies. We help our clients achieve their business objectives with optimum efficiency, by utilizing the power of Information Technology to integrate, simplify and improve their business process.
Over the years SARANGSoft has done numerous projects for external clients as well as own product development. For native software development, we primarily focus on Windows and Android. On the web, we work with both .NET and Open Source technologies. In cloud we work on Amazon AWS and Microsoft Azure.
SARANGSoft was started in March 2000. SARANGSoft India Pvt. Ltd.(SIPL), our offshore development initiative begun operations in November 2000.
SARANGSoft India is an ISO 9001 : 2015 organization, audited by TUV-Nord.
WinBackup Business v2.8 released with client status updates and additional backup rules / controls.
digipaper v4.7 released with support for scheduled bulk import of digital documents and overall security improvements.
digipaper v4.6 released for automatic database migration during version upgrade.
We are a customer-focused and quality-driven software design and development company. Our commitment is to provide you with technical challenges, diversity of assignment, and career advancement opportunities. We provide the flexibility along with the encouragement and support to help realize an individual's true potential.
USA: SARANGSoft LLC, 12819 SE 38th St, #421, Bellevue, WA 98006.
Phone: 425-378-3890.

India: SARANGSoft India, Module 428-429, SDF Building, Salt Lake, Sector V, Kolkata 700091.
Phone: 033-2357-6094.
Scroll
Scroll