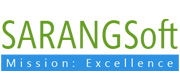 Company Highlights
Company Information
SARANGSoft (USA)
Started in March 2000
Deep Knowledge of Windows OS
Web and App Development
Cloud and mobile technologies
Technology consultancy expertise
SARANGSoft India Pvt. Ltd.
Started in August 2000
Member of STPI
ISO 9001 : 2015 (by TUV-NORD)
Product research & development
Outsourced product development
Mission and Vision
The primary goal of SARANGSoft is to provide IT solutions to organizations of all sizes, using the latest in hardware, software and communication technologies. We help our clients achieve their business objectives with optimum efficiency by utilizing the power of Information Technology to integrate, simplify, and improve business processes. We strive to demonstrate return on investment (RoI) to the customer from at least one of the following:
Increased revenue from new customers and/or products & services
Reduced cost through better efficiency and reduced wastage
Better quality of products & services, thereby improved customer reputation
Investment in a technology project is meaningless unless at least one of the above is met. We ensure our customer realizes the benefit of the solution we deliver to them, be it our product, custom service or solution.
Information Technology is an integral part of every business by enabling integration of disparate business processes to increase efficiency, identify opportunities and trends, reduce redundancy and cost, and improve customer satisfaction. Technology has become much more affordable, and will continue to be even more so. The use of IT and, technology in general, used to be more prevalent in large enterprises, but over the last decade smaller businesses have started reaping the benefits of technology, though to a lesser extent. The falling cost, rising quality, ease of use and improvements in communication technologies have made it available to the smaller organizations. Also, the ubiquity of Internet access has taken commerce to global level, and the resulting competition has increased focus on customer service and satisfaction making IT as an essential part of business. We help businesses utilize the latest developments in technology without spending time on it.
Every business needs to excel in its core competency, and for most organizations IT is a necessity but not part of the core business. By partnering with a technology provider like us, a business can hand off the non-core operations to get the best value for money, and stay focused on its core business.
Scroll
Scroll