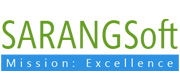 Call us:
USA: 425-378-3890
|
India: 33-2357-6094/6095
»
»
Web and Graphics Design
Products & Services
Services
Products
Our Products
Web and Graphics Design
SARANGSoft provides full service web-based solutions that produce sustainable long-term results. A successful website gives you a good and profitable business, truly interprets your work, broadens your market, brand identity and much more. We are passionate about creating clean, good looking, fast loading, easy to navigate sites that match our client's requirements. Our web design process is an interactive one. First, we listen to our customers and advise them based on our experience. We then produce a "mock-up" of the website design for the client to review. We encourage feedback from the client and make changes as needed. As a result of this collaboration the sites fulfill their purpose and give their owners a true sense of involvement. We see it as the best way to enhance client satisfaction and confidence in the services we deliver.

Our professional web designers keep pace with the latest technology trends. They are well versed with the W3C standards, including XHTML/CSS2, as well as designing search engine friendly business websites as per project requirements. Our novel technical skills are well integrated with creative design concepts, simplicity and logic. Some our web and graphic design services are as follows.

Website Design
We create our websites from scratch using the best design techniques in the business. Our designs use the finest elements of typography, usability, optimization, and color profiles. That's why we have developed a flexible and effective design process that is simple, clear, and fast. Our clients are important to us and we make every effort to help with a new or existing project.

XHTML/CSS Coding
We produce hand-coded clean XHTML markup and table-less CSS layouts. We deliver high quality, user friendly cross-browser XHTML/CSS code. Our code is easy to use, update and to work upon. Before delivering the developed website to you, we test it with all available browsers like IE 6, 7, 8, Mozilla Firefox 3.x, Safari, Google Chrome, Opera as per your needs.

Web Development
We offer fully customized web development service based on the client's requirements and their business goals. We make the right use of modern technologies like PHP, ASP.net, AJAX / JQuery, etc., along with high degree of creativity. Web applications developed by us not only establish easy and effective interaction with the intended customers, but also become some of the industry leaders.

E-Commerce
E-commerce is the most effective way of selling products / services across the globe. With the availability of online payment gateway, online integration with shipping companies like UPS, inventory management, online support, global reach, setting up an e-commerce website is both convenient and cost effective for buying / selling products / services.

Flash Animation
We provide cutting-edge 2D animation, multimedia content for your presentation, Flash intros for your corporate websites, Flash programming (using ActionScript3), Flash banners and much more. We have the ability to use Flash technology to bring life to the end product with mind-capturing animations and designs.

Logo Design
The logo or brand is not just a graphic; it is the embodiment of an organization – of its domain of work, its ethos, its core values. Designing a logo is one of the most important areas in graphic design, and thus can be considered the most difficult area to perfect.

Corporate Identity
We can help take your corporate identity one step further with our complete branding services. Do you feel your company identity needs better look? Then why not re-brand your existing company identity to match recent trend? It is the trademark of your organization. We are here to help you.

Search Engine Optimization (SEO)
We do Search Engine Optimization with dedication and thoroughness, so that we will give the best result to the customers. We use keyword analysis, valid CSS and XHTML, and move to link building and Google Adwords Campaigns.

Newsletter / Email Design
We can help you create eye-catching newsletter designs. We provide this service to companies of any size, and for both email newsletter design and printed company newsletter design needs. For printed newsletter designs, we will put our print design expertise to ensure that your newsletter design is attractive, easy to read, and also fits into your own branding guidelines.

Flyers / Brochures
Professional grade Flyer & Brochure design can make a big impact at trade shows and your own marketing events. We can help with that too.

Key Strengths

Professional website layout design
W3C compliant XHTML & CSS coding
Logo & Identity design
Technical Skills
Expert in Photoshop
Expert in HTML/XHTML & CSS
Skilled in DHTML/JavaScript
Skilled in Corel Draw
How You Gain:
Attract website traffic & increase brand visibility.
Outsource your web design projects to us and cash in on a great website, featuring compelling visual appeal that is SEO-optimized, cross browser compatible, and easily maintainable.
Scroll
Scroll