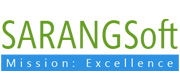 Call us:
USA: 425-378-3890
|
India: 33-2357-6094/6095
Company Information
SARANGSoft (USA)
Started in March 2000
Microsoft Vendor since 2003
Deep Knowledge of Windows OS
Web and App Development
Technology consultancy expertise
SARANGSoft India Pvt. Ltd.
Started in August 2000
Member of STPI
ISO 9001 : 2015 (by TUV-NORD)
Product research & development
Outsourced product development
Testimonials
Can't thank you enough for all the help you provided us to develop our product.
Mark Anthony, VP of Operations (DietTypingSystems.com), New York, USA
About three years back there was a fire in the SMPS of one of our Desktops at RBI Kolkata office. The PC had vital data, but could not be saved from the fire. Fortunately, the PC was running filexpertez, and daily backup was setup on it. We were successful in restoring all the data from the backup.
Last week another PC suddenly failed causing a big loss of data. We found that filexpertez backup has been silently running on it as scheduled for the past three years. The latest backup again helped restore the entire data and thereby avert a major problem. My colleagues were thrilled and called me to inform about it.
These are two real life scenarios where filexpertez has been a great help. Successful data backup over a long time without any intervention.
Deepan Dey (Reserve Bank of India), India
I have completely enjoyed working with SARANGSoft.
Nancy Dale (DTS), Solvang, CA, USA
Thank you for all of your support and timely answers to our questions.
Ira S. (CCHCP), Seattle, WA, USA
Amazing prices for all the work they have done for me. Very accountable and accurate too
David Vaughan (FoodPharmacy), Bozeman, MT, USA
Diligent and organized, understood complex technological spec and implemented it well. Great to work with!
(iStreamPlanet), Washington, USA
I am so grateful for the dedication and commitment you and your team have invested in our project. I now look forward to the next phase of the project and beyond.
Working with you and your team has been such a pleasant experience. The level of support that you have provided has been exceptional.
Kay Hansen (Exec. Director, NTA), Olympia, WA, USA
Scroll
Scroll